Meet the IT team at Systemadix. We are here to help you with all of your computer needs. We offer complete management of your IT systems including design and development, installation, and upgrades of servers and computers. We specialize in installation, support and upgrades for both hardware and software systems. Give us a call today!
Andrew Wilson
President
---
Andrew is the President of Systemadix Technologies, LLC. He has been responsible for leading the company since 2017 and later assumed ownership from the founder, Eric Bloom, in January 2019. He is dedicated to reducing the frustrations that exist between clients, technology, and most importantly, the IT company. Prior to joining Systemadix, Andrew worked for a number of large corporations and financial institutions. His extensive business background has equipped him with a unique ability to determine clients' business needs and translate these into technology-based solutions. Andrew can also advise on many Accounting & Finance related matters. He is a seasoned application developer with a background in corporate finance, business strategy, process improvement, data management, compliance, and is highly proficient with MS Excel, Access, Visual Basic for Applications (VBA), VB.NET, and SQL Server-backed applications.
Denya Lloyd
Network Architect
---
Denya assists clients in all aspects of managing their network infrastructure. He is certified in Network+, MCP, VMware, proficient in Salesforce development, is a Cisco Certified Network Associate, and has a Bachelor of Science degree in computer technology from Bowie State University. Denya grew up in the British West Indies, moved to Maryland in 2000, and is a proud veteran of the US Army.
Eric Bloom
Founding Consultant
---
Eric Bloom founded Systemadix Technologies, LLC in 2004. He has 37 years of experience in the IT industry, and continues to provide assistance to clients as he transitions towards retirement.
Martin Riley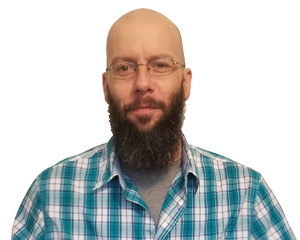 Network Support
---
Marty is the first person many of our clients see when help is needed with various computer issues. He performs desktop, server and network administration, and is proficient with Windows and various web development platforms. Marty has been active in the technology industry since the mid 90's, starting his first IT company right out of high school.
SERVICING LOCATIONS NEAR YOU